Description
Highlight
*TAIWAN IMPORTED MAEVE 980D DAY.
*REAL PRODUCT PIC

CHARACTERISTIC OF MAEVE SLIM LEGGINGS

Product Benefits & Functions :




High Waist, Burns FAT & Shapes UPPER & Lower BODY

Areas for FAT BURNING

1.WAIST & TUMMY
2.BUTT (lift & shape)
3.THIGH
4.HIP
5. CALF
EIGHT OTHER BENEFITS SIMILAR TO THOSE SELLING RM500 - RM800



Looking for A GREAT INNER SLIM-WEAR ?
Fit it Underneath Any Pants or CLOTHES
Buy only 100% ORIGINAL Slimming Leggings @ BUY 1 FREE 1 Special OFFER!!


Production Country
Taiwan

Buy 1 FREE 1 package price :-

RM 299 ( S-4XL) per box of 2 units leggings
* BUY 1 FREE 1 promo is only for same size & same type leggings
Product Code:
Maeve 980Denier Day Slimming Leggings
Differences between 980D Day & 420D Night Slimming Leggings :
Two (2) main differences between 980D Day and 420D Night Slimming Leggings
1.Compression/pressure
- 980Denier day leggings are tighter than 420Denier night slimming leggings.
- 980Denier Day is not suitable to be used as sleep wear because it is too tight (980denier compression is too high for sleep purpose)
- 420Denier compression night slimming leggings is developed specially for sleep use
2.Design
- 980D is suitable for outings/work but 420D is not because of the sleepwear design
Compression Code:
- 980Denier is the Compression code for the slimming leggings.
- The higher the number, the higher the compression
Color:
Black, Nude


Leggings TYPE:
980D Ankle - Waist till Ankle
Size Details/Measurement:
S-M, L-XL, XXL-XXXL,XXXXL
Size Chart :

【S-M 】height 145cm-163cm weight 40 - 58KG

【L -XL】height 154cm-173cm weight 59 - 71KG

【XXL-XXXL】height 160cm-178cm weight 72-105KG

【XXXXL】height 160cm-178cm weight 106 -135KG
Special Remark
*Leggings can fit till 145kg with height of 165cm - 180 cm (kindly consult us if weight is between 135- 145kg)

MATERIAL :

Material : 25% Lycra + 75% Nylon

DESIGN :

*3D KNITTING CUT
*DUOMMED TECHNOLOGY
*MOLECULE ACTIVE REBOUND FAT BURNING TECHNOLOGY
*ANTI- ROLL BELT DESIGN
*Highly stretchable and elastic allow wide expansion.
*FABRIC expand & fit according to body shape.
*Seamless & feel light when wearing.
* Instant Shaping & Body Support
* Cooling fabric like second skin feature.
* Super easy to wear.



Recommended Length of usage:
8-15 hours a Day
Direction for use:
Inner Wear for denim, dress, baju kurung, skirts, pants during working hours or other occasions.
Suitable for outer wear with fashion match outfits.
For optimal results put it on for 6-12 hours during day time.

Recommended Usage:
- Very suitable for those who wish to lose weight & shapes their body from waist down
- Not suitable to be used during pregnancy
- High recommended for post pregnancy women to slim down and shape back their body
- 100% Natural with no side effects
Product Function:
- Seamless and superb slimming function.
- Lift and Shape butt.
- Shape and control top to flatten tummy.
- Ultra fashion appearance and suitable for various activities
- Aids post pregnancy body restoration.
Effect after usage:
A reduction of around 2-3cm in leg circumference, this is based on a 50cm leg so expect more for larger legs!
Testimonials:
For customers' proven TESTIMONIALS, click HERE
*PROVEN to slim down 5-15 kgs and 2-4 inches on WAIST & THIGH in 2-6 weeks
HOW TO WASH :

*Hand wash using pipe water, MILD DETERGENT/BODY SHAMPOO/BABY SHAMPOO.
*Avoid CHLORINE based BLEACH.
*Should not wring or twist the garment (You can squeeze.)
*May roll the garment in a towel to remove excess moisture and lay the garment flat or hang to dry.
*Avoid direct sun exposure. (Indoor/Porch/Dry Under Roof/Balcony)
*Avoid ironing.

Guidelines above for LONG LASTING MAINTENANCE.
Note:
The price quoted are for item MAEVE Day Slimming Leggings only.
Other items displayed in the photo other than the main product described are for illustration purpose only.
* Should you have any inquires you may contact / whatsapp / wechat us at 0183602615.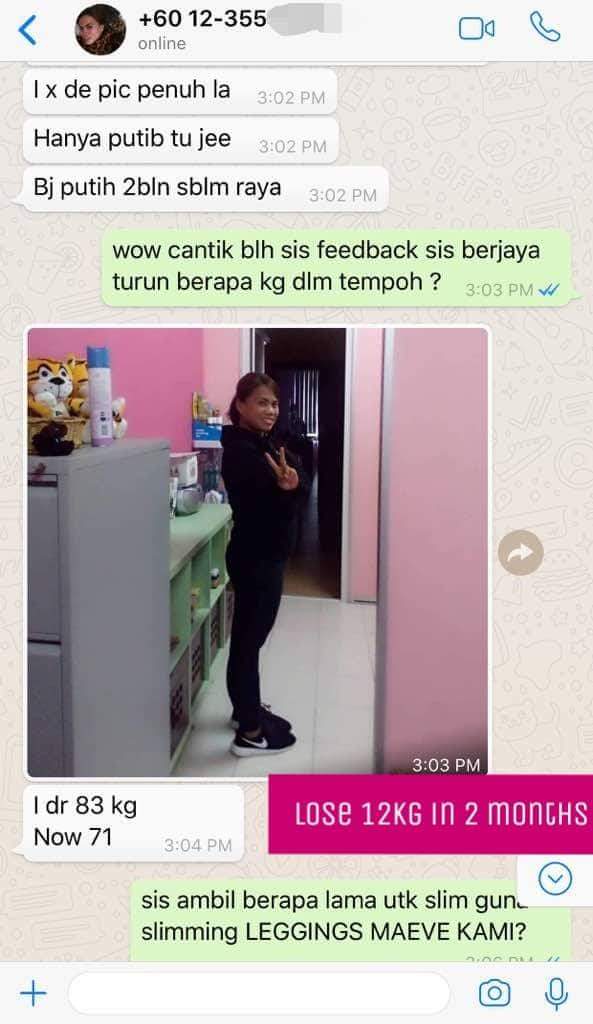 Reviews (641)
view all
back
What's in the box
TWO (2) PCS MAEVE 980D DAY SLIM LEGGINGS (UNDER BUY 1 FREE 1 PROMO).